We all know the classic Christmas Stollen as a tasty cake-like fruit bread dessert.
But did you know it's also rich in history and has a unique symbolism too?
What Are Stollens?
The Christmas stollen is a cake-like fruit bread that is rich, dense, and loaded with nuts, candied citrus peel, dried fruit, and marzipan.
However, stollens do not have a lot of sugar despite their sweet taste.
Instead, its sweetness comes from the candied citrus and dried fruits, while the butter and nuts provide a rich flavour.
It is also coated with icing sugar and often has a marzipan centre to keep the loaf moist.
History Of Stollen
Christmas Stollen, also called a Christstollen in Germany, is a traditional pastry dating from the 14th century.
Stollen loaves were made in Germany during the Christmas season to sell at fairs and festivals and to honor princes and church leaders.
The term stollen comes from the Old High German word stollo, which means pillar.
As the Catholic church forbade the use of milk or butter during Lent (the five weeks of fasting leading up to Christmas), early stollen loaves were baked as bread without these 2 ingredients which made them less flavourful.
During the middle of the 17th century, a papal decree allowed Stollen bakers to use milk and butter, the stollen we enjoy today.
Types Of Stollens
Additional ingredients can be added to create different varieties.
Dresdner Stollen
The Dresdner Stollen is the most popular among the different varieties of Stollen and is filled with nuts, candied citrus peel, dried fruit, and marzipan.
Originally from Dresden in Germany.
Mandelstollen
Almond Filled Stollen with butter, almond paste, candied fruit and a hint of rum.
Mandel means "almond" in German.
Quarkstollen
Quark refers to "soured milk", and Quarkstollen typically has curd cheese or greek yoghurt inside.
Mohnstollen
Stollen filled with poppy seeds instead of the usual marzipan.
What Do Stollens Symbolise?
Stollen also has religious symbolism, with the loaf of bread symbolising Christ's body.
It represents the baby Jesus wrapped in swaddling garments by being coated with powdered sugar.
As a result, it is also known as Christ Stollen or Christstollen.
Other Common Desserts Enjoyed During Christmas
Gingerbread Man
In the past, the term "gingerbread" referred to a cake-like bread that was prepared with ginger and molasses.
The gingerbread is typically cut and embellished into a variety of shapes, with a small man being the most popular.
Panettone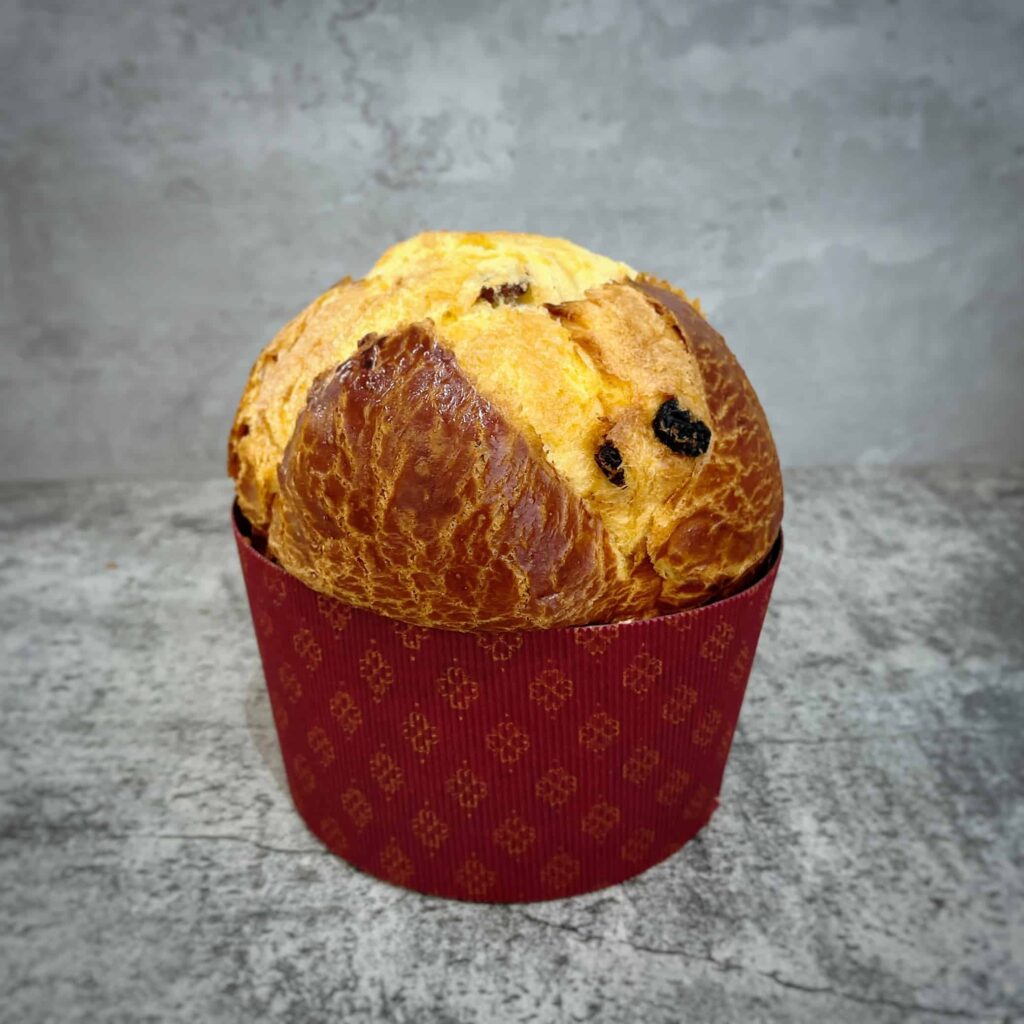 Panettone is an Italian yeast-leavened bread, usually made with raisins, candied fruit peels, almonds, and brandy.
Often known as one of the hardest Christmas desserts to bake due to the need for precise temperatures.
Yule Log Cake
Yule log cake, or bûche de Noël is a rolled Genoise sponge cake, filled with buttercream and decorated with chocolate frosting.
Pecan Pie
Pecan pie is a quintessential American dessert with a silky, sugary blend of eggs, butter and a sweetener—traditionally corn syrup—held together in a flaky pie crust.
Where To Get Stollen In Singapore?
With all this information about Stollen, we know that you're longing to try out this rich and delicious bread!
Stollens are available during Christmas in Singapore, in many bakeries such as La Levain.
You can get your Stollen here and enjoy them with your loved ones during your holiday gathering!