Christmas is all about time with your loved ones, and no meal is complete without desserts!
From gingerbread men, log cakes, and stollen, these iconic desserts are a must-have at every Christmas meal.
But do you know the history behind these classic bakes?
Read on so you can share these stories with your friends and family at your next gathering!
Traditional Christmas Desserts And Their History
Christmas Stollen
A traditional cake-like fruit bread that's rich, dense, and loaded with nuts, candied citrus peel, dried fruit, and marzipan.
Stollen loaves were made in Germany during the Christmas season to sell at fairs and festivals and to honor princes and church leaders.
It has a religious symbolism, with the bread symbolising Christ's body.
It specifically represents the baby Jesus wrapped in swaddling garments by being coated with powdered sugar.
You'll also find a layer of marzipan to keep the stollen moist, while the butter and sugar glaze locks in additional moisture.
As a result, it is also known as Christstollen.
Gingerbread Men
In the past, the term "gingerbread" referred to a cake-like bread that was prepared with ginger and molasses.
The gingerbread is typically cut and embellished into a variety of shapes, with a small man being the most popular.
The earliest account of person-shaped gingerbread cookies is from the 16th century.
Elizabeth I of England surprised guests with "biscuits" that were designed in their likeness.
Its association with the holiday season, which didn't come until later, is likely a practical one: Since ginger has a calming effect that warms the eater, some individuals attribute the practice to the weather.
Others say that, since gingerbread was once considered a delicacy reserved for special occasions, its connection to Christmas is natural.
Panettone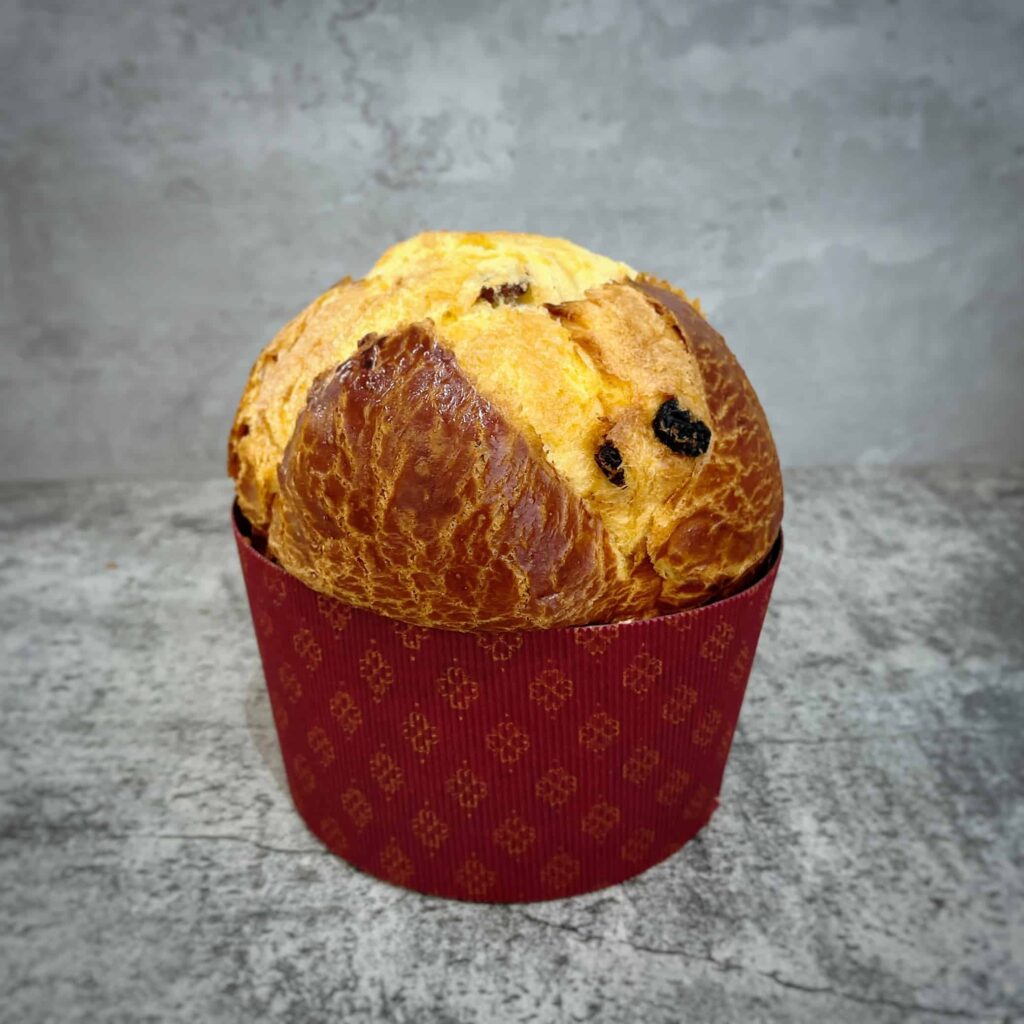 Panettone is an Italian yeast-leavened bread, usually made with raisins, candied fruit peels, almonds, and brandy.
Considered one of the most difficult things to bake, its dough is wildly sensitive and requires the correct amount of fat and temperature.
It was first invented in 1495, when the dessert at a Christmas supper by the Duke of Milan was accidentally burned.
A talented young chef named Toni then stepped in to replace it with another thick brioche bread that was stuffed with raisins and candied fruit.
The Duke adored it, and the custom of "Pane di Toni" was established.
Yule Log Cake
Yule log cake, or bûche de Noël is a rolled Genoise sponge cake, filled with buttercream and decorated with chocolate frosting.
The cake cleverly combines two traditional midwinter customs—one commemorating the Norse god Thor and the other celebrating the end of winter—by being formed and adorned to resemble a 3-D log.
Pecan Pie
Pecan pie is a quintessential American dessert with a silky, sugary blend of eggs, butter and a sweetener—traditionally corn syrup—held together in a flaky pie crust.
Texas cookbooks started to blossom with pecan dishes in the 1870s, but pie was not one of them.
Pecan pie's invention cannot be attributed to a single person, however a Texas woman is credited with contributing the recipe that first appeared in a St. Louis cookbook in 1898.
They are commonly enjoyed during the end of the year as pecans are typically harvested during October and November in US.
Why Do People Eat Dessert During Christmas?
A Christmas feast is not complete without a dessert because nothing beats having a sweet treat after a savoury meal.
Many like to share a huge serving of dessert, like stollen or pecan pie with their loved ones so everyone can have a piece of the delightful festive treat!
It's also a form of bonding with your friends and family when you share the delectable delights together!
This is especially true in Singapore where food has such a huge cultural significance.
What And When Is Christmas?
Christmas was traditionally a Christian holiday honoring the birth of Jesus, but in the early 20th century it has evolved into an annual secular event that is celebrated by both Christians and non-Christians.
It falls on 25 December and it's a public holiday in Singapore.
How People Celebrate Christmas
Popular traditions include giving gifts, putting up Christmas trees, going to church, and gathering with loved ones for feasts and desserts.
In Singapore, there'll be decorations of Christmas lights around the streets especially at Orchard Road, people would gather with their loved ones to view the lights on the festive day.
Where To Buy These Christmas Desserts In Singapore
With all the rich history behind the traditional Christmas desserts, you're probably looking to order it for Christmas to share with your loved ones!
Artisanal bakeries like La Levain are open for pre-order for these festive treats, they even provide free delivery for orders above $120!
But many of these bakeries would recommend you pre-order yours first as they only hand bake a limited quantity each day.
So go ahead and order your favourite desserts to celebrate this joyful season of giving!