A good quality Hot Cross Bun, especially when baked with premium ingredients, are usually good enough to be eaten on their own.
But with their sweet, spiced flavour and soft, fluffy texture, these Easter Sunday classics can also be enjoyed in a variety of creative ways to elevate your breakfast and snack game.
So read on to find out 8 unique ways to enjoy La Levain's Hot Cross Buns beyond Easter!
Hot Cross Bun French Toast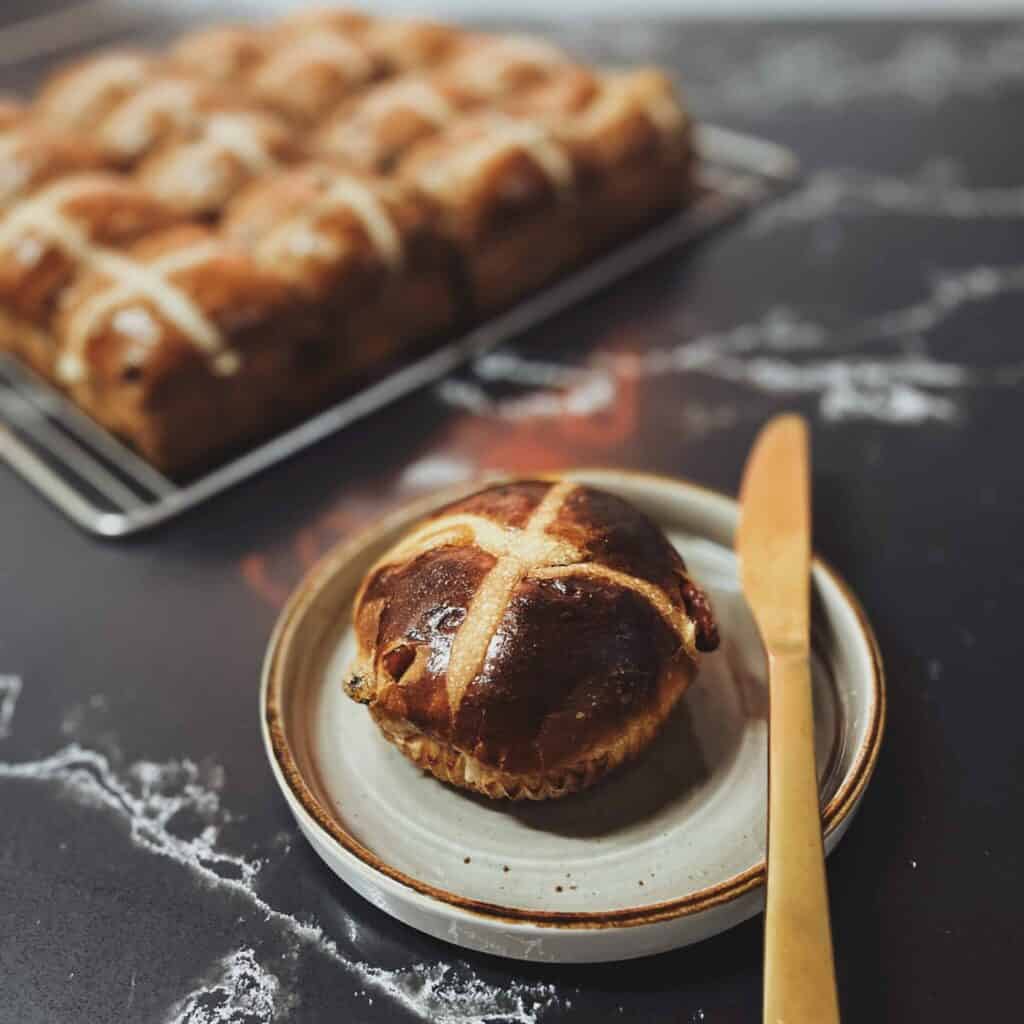 It's time to upgrade your breakfast game with this delicious twist on traditional French toast.
Simply soak your buns in a mixture of eggs, milk, and spices, then fry them up for a quick and easy sweet and savoury breakfast treat.
Hurry and hop to it because with this hack you can have the best of both worlds, soft and fluffy hot cross buns and sweet and savoury French toast!
Hot Cross Bun Bread Pudding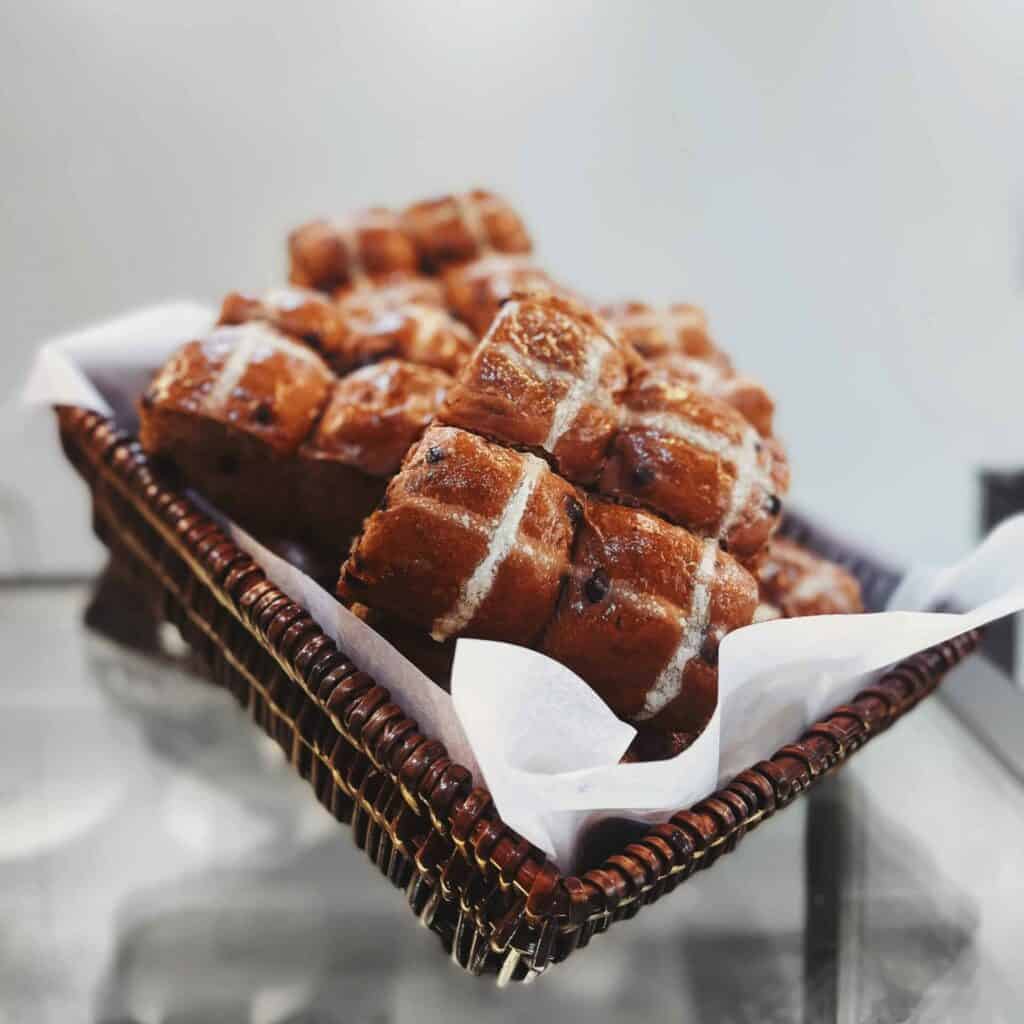 Turn your leftover Hot Cross Buns into a decadent dessert with this easy recipe for bread pudding.
Simply layer sliced buns in a baking dish with custard and bake until golden brown.
Now there's no doubt that bread pudding just got a whole lot hotter with this Hot Cross Bun version!
Hot Cross Bun Ice Cream Sandwiches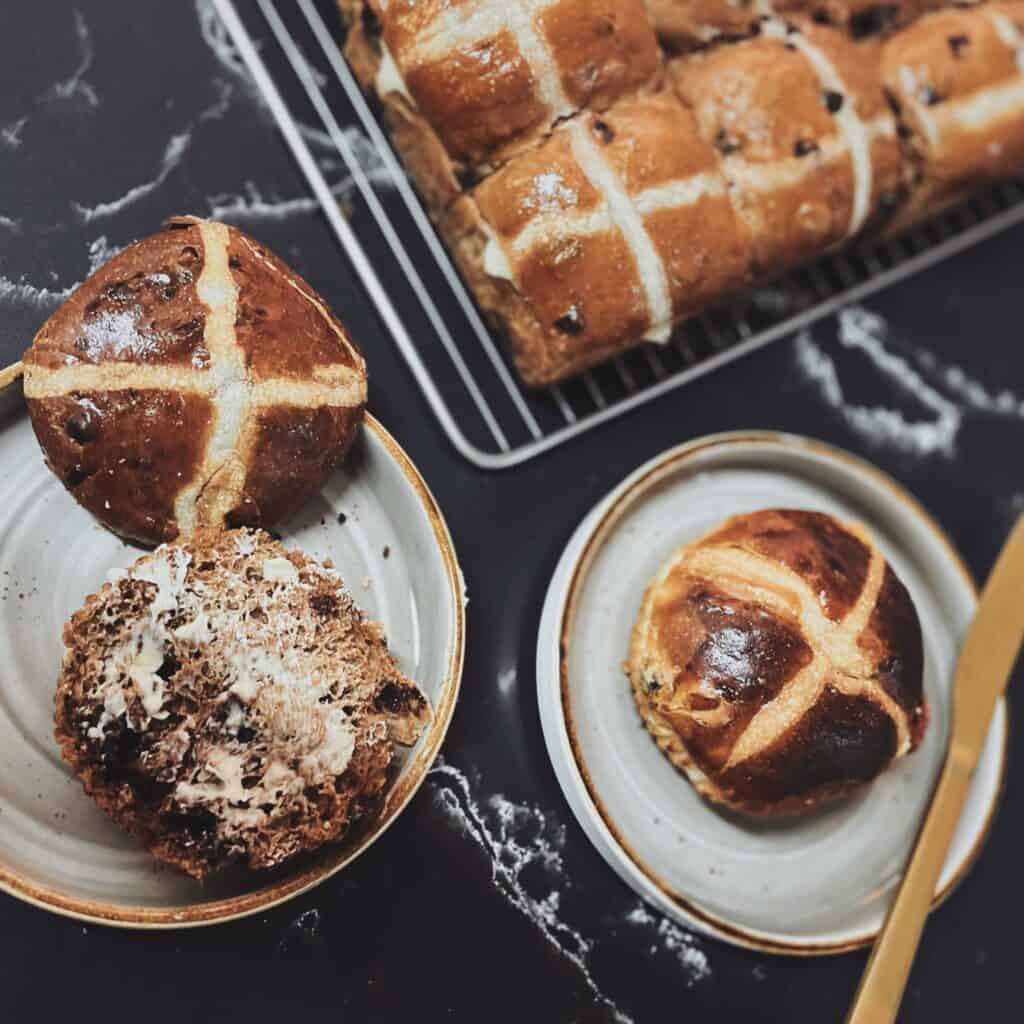 Make your own ice cream sandwiches with hot cross buns instead of cookies!
All you have to do is slice your buns in half, add a scoop of ice cream, and sandwich together for a sweet and indulgent treat.
Not only will this be the perfect dessert to satisfy your sweet cravings, but it's also sure to be a hit at any party!
And you can elevate it even further by toasting the buns to create a greater level of contrast and textures!
Hot Cross Bun Bread and Butter Pudding
Simply layer sliced buns in a baking dish with butter and sugar, pour over a mixture of eggs and milk, and bake until golden brown.
This buttery and delicious treat is so good, you'll want to cross your fingers and hope for leftovers!
Now you enjoy this British classic, without leaving Singapore.
Hot Cross Bun Trifle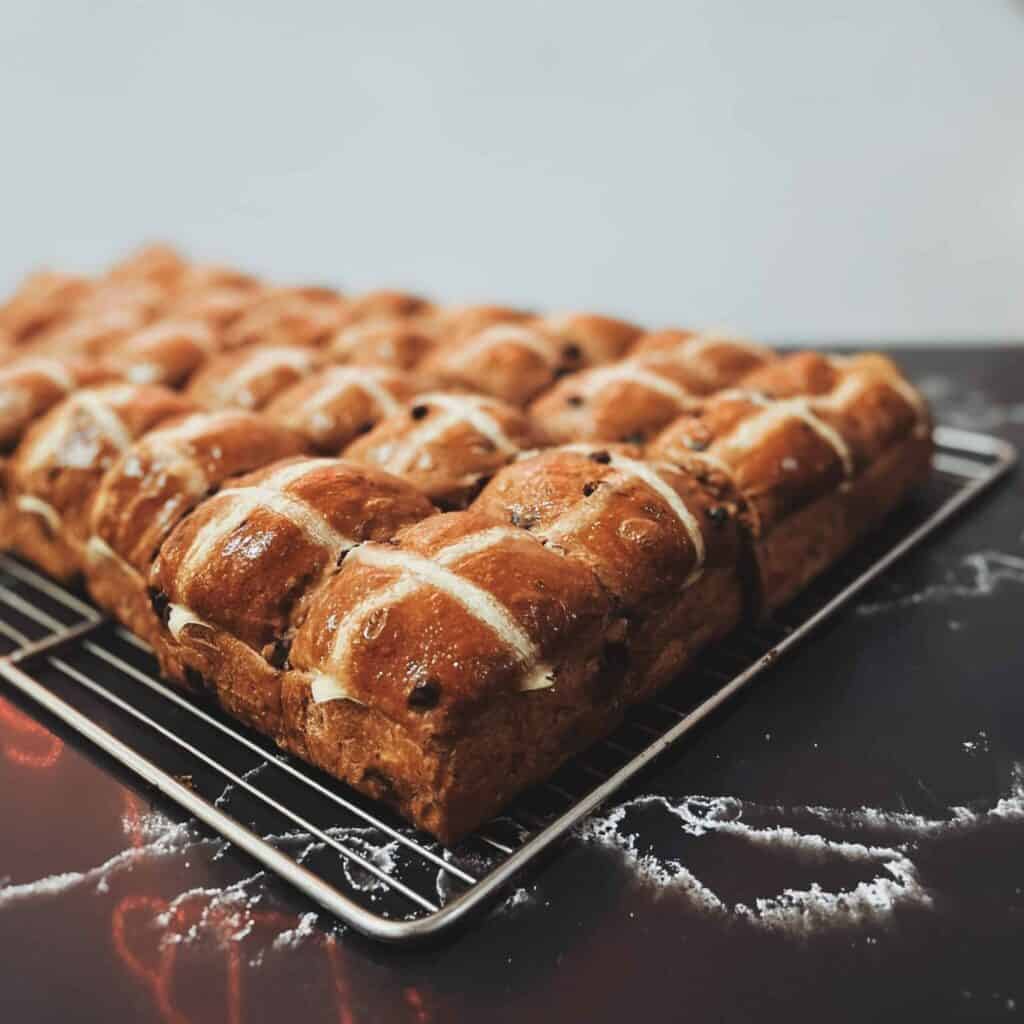 This is the ultimate Easter dessert for those who want a bit of everything!
Just layer fresh Hot Cross Buns with fruit, custard, and whipped cream for a festive and decadent dessert that's perfect for any occasion.
But watch out because this Hot Cross Bun Trifle is sure to make your taste buds hoppy!
Hot Cross Bun Waffles
Put a unique twist on your breakfast routine with these delicious Hot Cross Bun waffles.
Simply pop our soft and fluffy buns into a waffle maker and this quick and easy breakfast is good to go!
You can even slather on some butter or maple syrup to take them to the next level of deliciousness!
And you wouldn't even need to add any other toppings either thanks to the candied fruits, spices and chocolates already in the buns.
Hot Cross Bun Bread Sticks
Add a touch of sweetness to your next cheese board with these easy hot cross bun bread sticks.
Simply slice your buns into thin strips, brush with melted butter, and bake until crispy.
This appetiser is sure to be a hit at any gathering as it's worth a-bun-dant praise!
Hot Cross Bun Burger
Take your burger game to the next level with this unique and delicious hot cross bun burger.
Simply swap out your regular buns for hot cross buns and add your favourite burger toppings for a sweet and savoury twist on a classic dish.
Now you have made a bun-derful twist on a classic sandwich that'll make your taste buds ask for seconds!
How To Order Your Hot Cross Buns In Singapore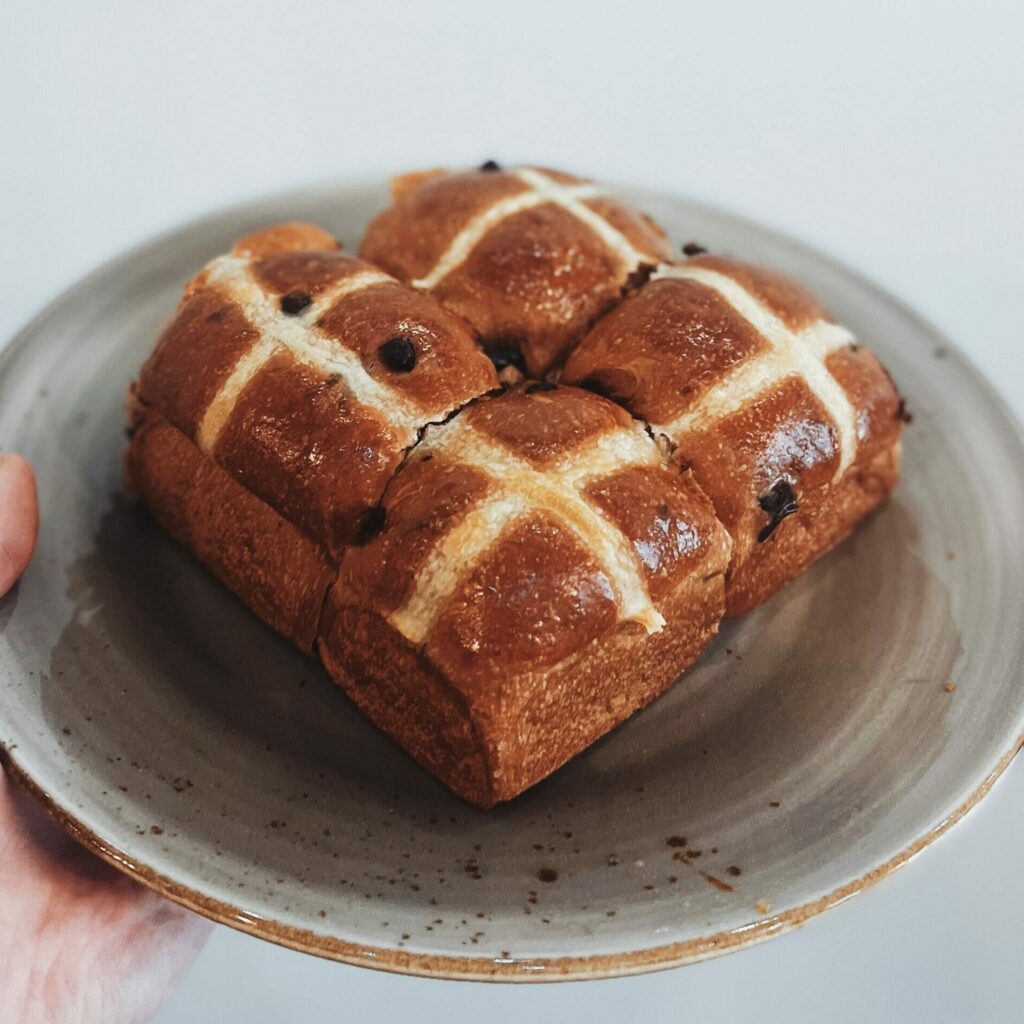 With their addictive texture and explosion of flavours, hot cross buns are a versatile and tasty ingredient that can be used in a variety of creative ways.
It's important to use good quality buns and ingredients to maximise your eating pleasure.
That's why La Levain's Hot Cross Buns are perfect for your recipes.
Made with quality ingredients like Japanese flour and French Butter, they even use rich cacao barry chocolate chips in their Chocolate Hot Cross Buns!
They also offer delivery to addresses in Singapore so you can enjoy maximum convenience with the click of one button.
So hurry and get your Hot Cross Buns from us now to experiment and see what delicious recipes you can come up with!